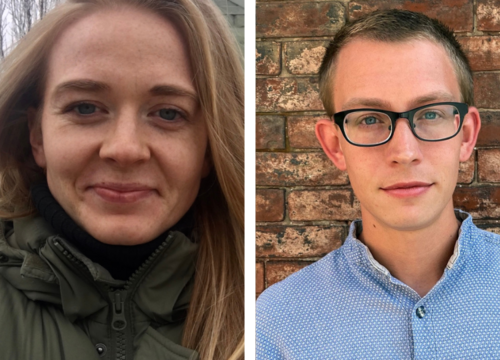 Gwendolyn Harper ('15) is currently translating Wild Desire and Other Writings, by Pedro Lemebel, for Penguin Classics. The book will be an anthology of crónicas by the Chilean writer whose campy experimental AIDS narratives are considered cult classics in Latin America. It will feature an introduction by the novelist Garth Greenwell, and is also set to be published in the UK by Pushkin Press.
After Yale, Gwen spent a year living in Chile on the Parker Huang Travel Fellowship, which was where she began to read and translate Lemebel's work. She has since earned an MFA from Brown University, and was the recent recipient of a fellowship from the National Endowment for the Arts. Her translations and essays can be found in Poetry, n+1, Two Lines, Public Books, and Latin American Literature Today.                                                                        
After graduating from Yale in 2015, Austin Carder spent a year in France before beginning a PhD in Comparative Literature at Brown. From a bookseller on the banks of the Seine, he picked up a slim volume by a poet whose name he had never heard: George Schehadé. Schehadé (1905-1989) was a Lebanese poet and playwright who wrote in French and received the inaugural Grand prix de la francophonie from the Académie française in 1986. At Brown, Austin began translating Schehadé's collected poetry, Les Poésies. In July 2021, The Song Cave will publish Austin's translation and selection of Schehadé's poems under the title Poetries. The book will be introduced by the noted Syrian poet and essayist Adonis (who has translated Schehadé's work into Arabic).   
Austin is also Editor in Chief of Caesura, a magazine of art and criticism that often reviews and features translated literature, including Translucine, a monthly showcase of poetry in translation. The Fall 2020 issue of Circumference features Austin's translations of three poems by the Romanian artist Ghérasim Luca.