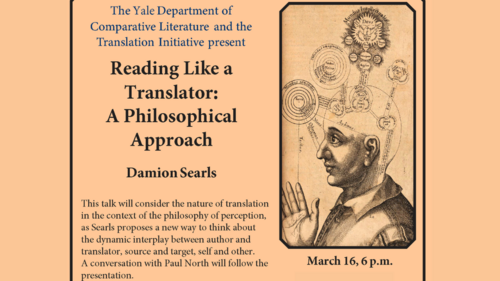 This talk will consider the nature of translation in the context of the philosophy or perfection, as Damion Searls proposes a new way to think about the dynamic interplay between author and translator, source and target, self and other. A conversation with Paul North will follow the presentation.
An accomplished translator of modern classics from German, French, Norwegian, and Dutch, Damion Searls has received fellowships from the Guggenheim Foundation and the NEA, and has been awarded the Helen and Kurt Wolff Translation Prize and the MLA's Louis Roth Award for Translation. He is the author of "The Inkblots", a popular history of the Rorschach Test.
Paul North is Professor of German at Yale University.
Watch here: https://www.youtube.com/watch?v=v_xmSOE-cp8. 
Sponsored by the Comparative Literature Department and Translation Initiative at Yale University.